A Message From, CEO, Philip Guarnieri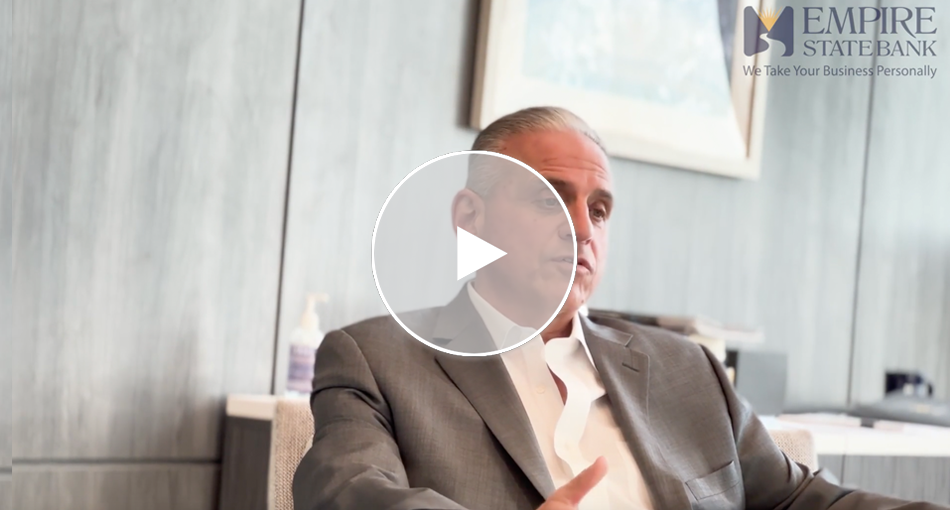 Dear Valued Customers,
We understand that recent bank closures have caused uncertainty and concern for many of you. We want to reassure you that despite the challenges facing our economy, Empire State Bank remains financially sound, stable and is not affected by these closures. We are committed to providing safe and reliable banking services to our customers.
As a community bank, we are deeply committed to the long-term success of our customers, our employees, and our community. We have always taken a conservative approach to risk management, and we have built a strong financial foundation that enables us to weather economic fluctuations and uncertainty.
We take pride in our strong financial stability. Our sound financial practices and diversification of our loan portfolio have allowed us to maintain a solid financial position despite the current economic environment. We are proud to report that our bank is well-capitalized, and we have strong liquidity and funding positions with a diversified loan portfolio and our credit risk management practices are robust and effective. With our recent Banking Systems upgrade, we have invested in advanced technology and operational efficiencies, which enable us to manage costs and maximize profitability in challenging economic environments. Additionally, we want to highlight that your deposits with us are protected by FDIC insurance up to $250,000 per depositor, per insured bank.
Furthermore, we understand that some of our customers may have deposits that exceed the FDIC insurance limit, and we have a solution to provide them with increased coverage. For those customers, we offer greater FDIC insurance coverage through the Insured Cash Sweep (ICS) and Certificate of Deposit Account Registry Service (CDARS). ICS and CDARS (Insured Cash Sweep and Certificate of Deposit Account Registry Service) provide you with greater FDIC insurance coverage for your deposits that exceed the standard FDIC insurance limit of $250,000. This service allows your deposits to be spread across multiple banks, offering increased protection for your funds. It is available for various types of accounts, including Business Checking, Personal Checking, Savings, Money Market, and CDs for both Business and Personal accounts. This service is available to anyone who is looking for protection of funds greater than $250,000. If you'd like to learn more, please call Empire State Bank at 866-646-0003. Or, simply speak with an Empire State Representative at Banking Center near you.
At Empire State Bank, we take your financial security seriously, and we are committed to providing safe and reliable banking services to our customers. Our team of experienced professionals is always available to answer any questions you may have, and we are dedicated to providing you with personalized support and guidance to help you achieve your financial goals. We are always here to help if you need to transfer any part of your banking relationship from one of the affected institutions. Our team is readily available to discuss the array of services we have available to meet your needs. Our Banking teams are ready to support you.
We appreciate your loyalty and trust in Empire State Bank, and we want you to know that we will continue to prioritize your safety and security above all else. We are committed to remaining a strong and reliable financial partner for our customers, and we look forward to continuing to serve you for many years to come. Thank you for your continued trust and loyalty in Empire State Bank.
Sincerely,
Philip Guarnieri
Empire State Bank